4-H Youth Development
4-H is a unique organization, in that it is the only youth development organization with oversight and sponsorship by the federal government. At the federal level, 4-H is administered by the United States Department of Agriculture, through the National Institute of Food and Agriculture.
The federal government partners with the Land-Grant Universities, of which Kansas State University is one. K-State Research and Extension, as part of KSU, administers the 4-H program in cooperation with the local Extension governing units.
Through our educational mission, we help youth to learn by doing and to lead by example. In 4-H, we are committed to providing a positive experience for as many young people as possible. Not just with the belief that 4-H grows great kids, but the belief that by preparing our youth for school, work and life that we are contributing to a vibrant economy for years to come.
Join the Club!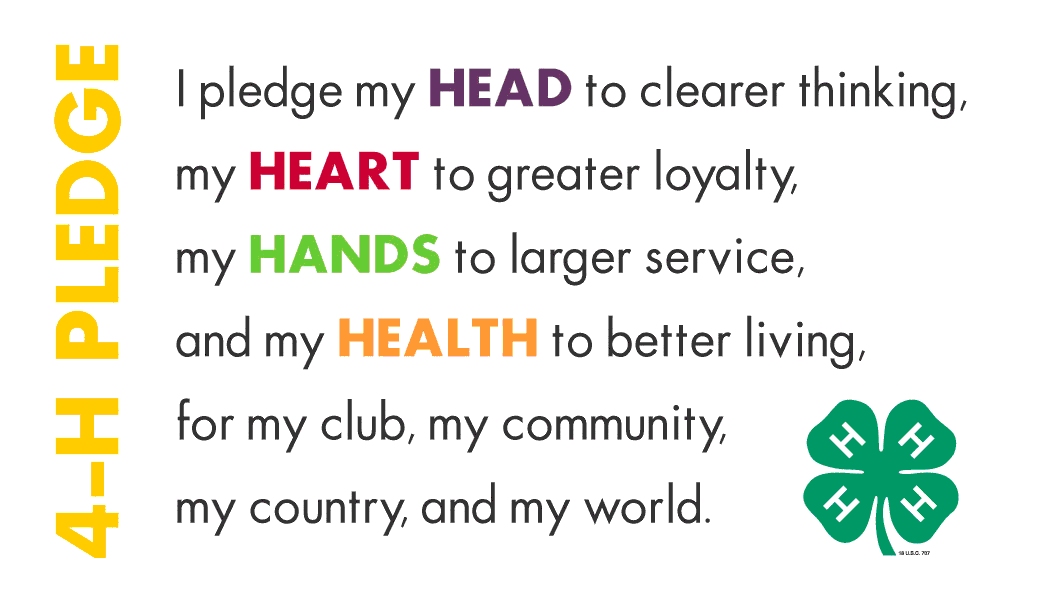 The four H's represent:
Head - Critical thinking, problem solving.
Heart - Self discipline, integrity, communication.
Hands - Serving others.
Health - Choosing healthy lifestyles.
2023-2024 Enrollment Starts October 1st
ENROLLMENT DEADLINE!
New families may enroll until May 1, 2024. If you have new members joining your club encourage them to get signed up early so they don't miss the deadline. See link below to enroll.
Enroll Here: http://v2.4honline.com/
New Adult Volunteer Enrollment Guide
Grants
4-H Development Fund Grant Application